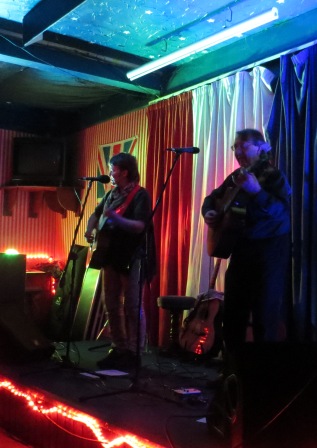 Very much enjoyed playing at Kontra Roots.  It's a great venue in Finedon, Northamptonshire.  Kev's a brilliant organiser and Geoff did a great job on sound.  It was a total pleasure to play there.  Steve was on good form so here's a little snippet of some of his HOT fingerpicking …
Taking a bit of time off now for Steve to crack on with some guitar making and I've got a kitchen to finish installing at my house.  Also hoping to knuckle down to writing more songs and Steve's working on some new guitar instrumentals that sound really complicated.  There'll be a lot of dog walking on the beach and hopefully jamming with friends up North too.
Next gig is Darlington Folk Club on Thursday 21st March, then Steve is doing a workshop at the Darlington Folk Festival on Saturday 23rd March, followed by a Hicks and Goulbourn set in the afternoon.