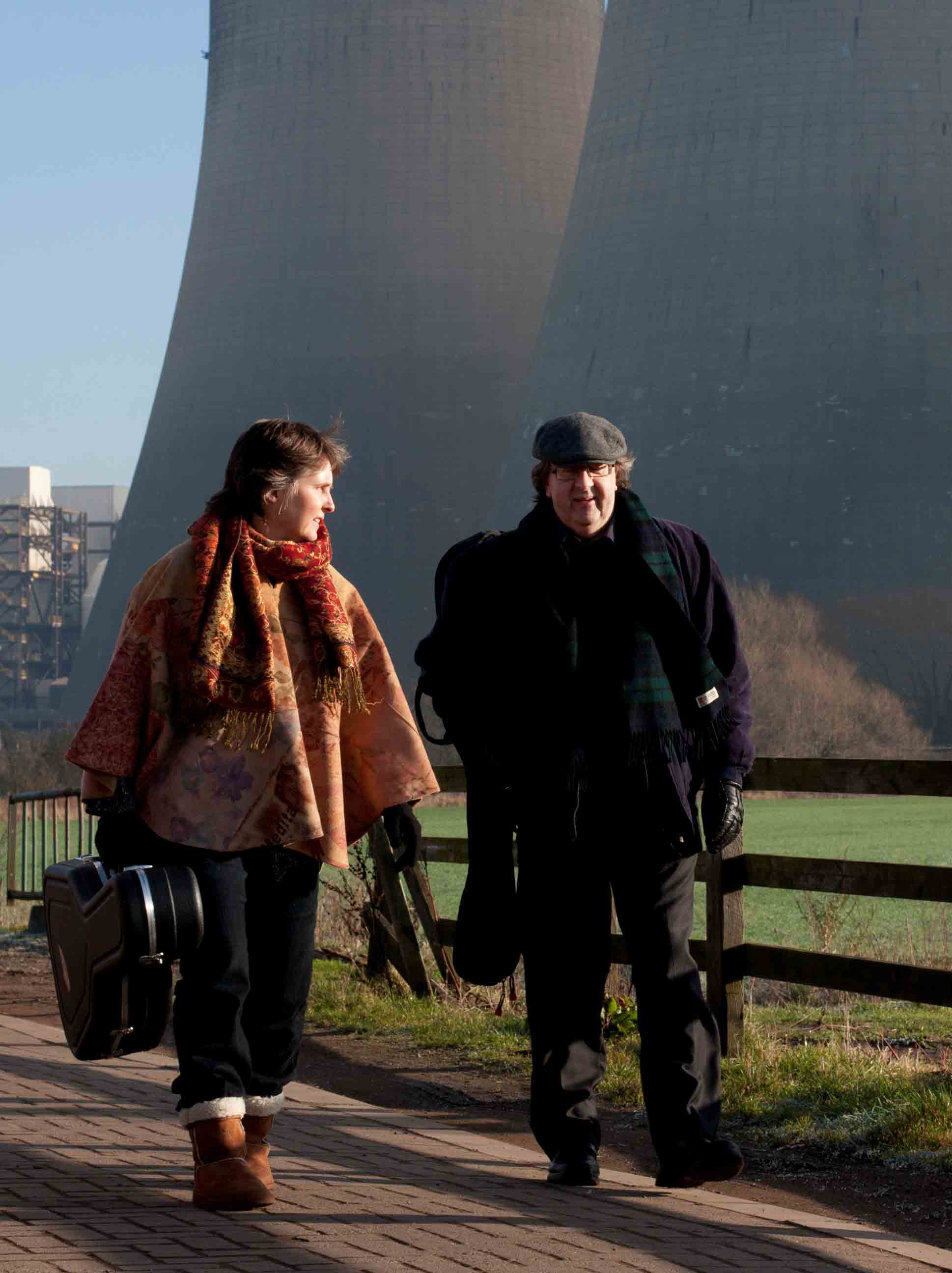 Steve Hicks and Lynn Goulbourn are available throughout the year for Festivals, Clubs, events and private bookings in the UK and abroad.
Fees will vary according to the event and venue but will usually be either an agreed amount or a minimum set against a percentage of the takings.
Hicks and Goulbourn can be booked as a duo or Steve Hicks solo.  In addition, Steve can offer Masterclasses and workshops in guitar playing. ( Further information on the page entitled, 'Fingerstyle guitar workshops and master classes with Steve Hicks').
If needed, we have a  PA system which is suitable for small venues although we prefer to use an in-house system with sound engineer wherever possible.  We enjoy performing without a PA at venues which have good natural acoustics.
Please get in touch with either Steve or Lynn to discuss your booking requirements and dates.
Steve Hicks           Email:  luthimus@yahoo.co.uk                 Mob:  07855 820 722
Lynn Goulbourn    Email:   lynngoulbourn@gmail.com  Mob: 07741 488 280
PA specification
2 x vocal microphones   and      5 x DI boxes
Hicks and Goulbourn have had UK guest bookings at:
Absolute Music
Acoustic Avalon Guitar Show
Acoustic Cafe Live
Acoustic Routes
Ashby Arts Festival
A'The Airts
BAAFest
Banbury Folk Club
Bar W
Beamish Mary Folk and Acoustic Nights
Bedworth Folk Club
Bedworth Folk Festival
Belper Folk Club
Belper Goes Green Eco Festival
Berwick Library
Bingham Folk Club
Bothy Folk Club
Brewtown Folk Club
Broadway Cinema
Bromsgrove Folk Club
Bury Met.
Cambridge Folk Club
Carlisle Folk and Blues Club
Carrington Triangle Folk Club
Chesterfield Folk Club
Chimney Boy Faversham
Cramlington Folk Club
Darlington Folk Club
Dartford Folk Club
Davy Lamp Folk Club
Dunfermeline Folk Club
Edenkoben Festival
Edinburgh Folk Club
Ely Folk Festival
Evershed Arts
Exile Music Festival
FAB Club
Faldingworth Live
Festival on the Moor
Folk at the Prospect
Frisby Village Hall
Gate to Southwell Folk Festival
Great Knight Folk Club
Green Man Folk Club
Grimsby Folk Club
Guy's Acoustic Picking Session
Headon Village Hall
Hinckley ACT
Horndon Feast and Fayre
Iron Horse Folk Club
Joules Yard
Kelso Folk and Live Music Club
Kelso Music Festival
Kontra Roots
Leith Folk Club
Little Theatre Leicester
Live Acoustic Special
Loughborough Acoustic
Loughton Folk Club
Lymington Folk and Blues
Mansfield Folk Club
Milkmaid Folk Club
Moira Furnace Folk Festival
Moniaive Acoustic Guitar Festival
Moniaive Village Hall
Morley Folk Club
New Longton Village Hall
Nottingham Folkus
Phoenix Cinema
Plug and Play
Plungar Village Hall
Poppy Folk Day
Ramsbottom Folk Club
Rea River Roots
Readifolk
Romford Folk Club
Room with a View House Concert
Rothbury Roots
Sail Loft Folk Club
Scrag End Folk Club
Second Time Around
Skipton Folk Club
Sound Sense House Concert
South Shields Folk Club
Spondon Folk Club
Springfest Darlington Folk Festival
St. Neots Folk Club
Stamford Arts Centre
Stamford International Guitar Festival
Stepping Stones Festival
Stevington Guitar Concert Series
Stortfolk
Stourbridge Folk Club
Sunderland Folk Club
Sutton Acoustic Guitar Club
Swanage Folk Festival
Tamworth Folk Club
The Acoustic Festival of Britain
The Bridge Folk Club
The Craigdarroch Arms
The Criterion
The Guitar Bar
The Lockside Lounge
The Musician
The Noels Arms
The Old Fire Station Carlisle
The Pack Horse
The Ram Folk Club
The Star Folk Club
The White Room Stanley
Topic Folk Club
Tump Folk Club
Twickfolk
Tyninghame Village Hall
Uckfield Folk and Blues Club
Ullapool Guitar Festival
Unicorn Folk Club
Uxbridge Folk Club
Wath Folk Club
Wessex Acoustic
Willows Folk Club Arundel
Wimborne Minster Folk Festival
Witherley Village Hall
Woodman Folk Club