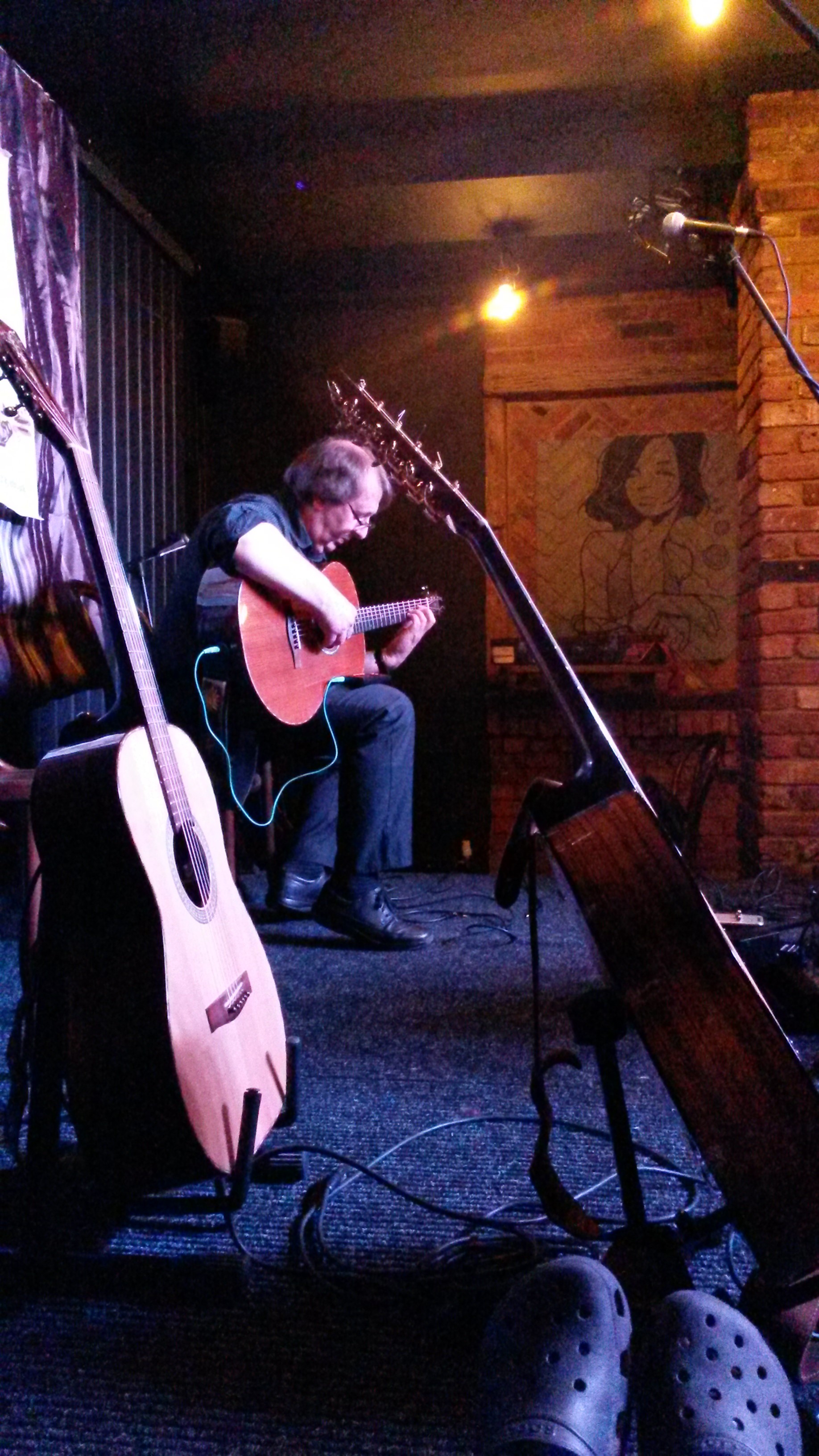 NEWS – Carolan Guitar Project
Steve recently contributed to the Carolan Guitar Project, a unique acoustic guitar that, 'tells it's life story', combining the skills of guitar makers and the Dept. of Computer Sciences, Nottingham University.
Steve spent some time familiarising himself with the guitar and was interviewed by the project leader Dr Steve Benford for the carolan guitar website blog.  He also contributed a video performance of his composition, 'Baloney Blues'. Check it out at:
www.carolanguitar.com Blog48 An-Educated Thumb
MORE NEWS – Steve Hicks and K. Yairi Guitars Japan
Steve is delighted to announce that he is to be honoured by K. Yairi Japan with a Steve Hicks Signature Model Presentation Guitar later this year.
Steve has performed a number of demonstration concerts for K. Yairi Guitars and has a great deal of respect for this internationaly renowned company and loves the guitars. The K. Yairi Steve Hicks Signature Model Guitar has been initiated by Peter Wesse, the European representative for K.Yairi Guitars.
Steve, who submited the spec. earlier this year, reports that the guitar build is well underway and is looking fabulous. The instrument will have both traditional and modern features and promises to be an exciting, high quality fingerstyle guitar. More details as they come in.
www.yairi.com
EVEN MORE NEWS – Steve Hicks and the music of Duck Baker.
In 2014 Steve was approached by his long time friend, fingerstyle guitar legend and composer Duck Baker to be part of a CD recording project playing new jazz orientated compositions by Duck.  Steve accepted the offer and is highly honoured, (and somewhat humbled), to be part of the project. He is now well into working his way through a selection, chosen from about 30 pieces submitted to him by Duck.  Steve will be one of several guitarists, including Duck Baker, to record pieces for this CD of Duck's music.
The recording will take place in Italy sometime in 2016 under the guidance of Duck and his Italian patron.  In addition, Steve plans to record a whole solo album of this material at some point.  The project represents new directions not only for Steve but also for it's creator Duck Baker.  Steve says of Duck that, "Apart from being a walking encyclopedia of Amercian music and its antecedents, there is no other guitar player I've encountered anything quite like him.  He's like a Monk figure, (Thelonious Sphere that is).  On working through these new compositions I'm finding they are full of quirky, unexpected things, his note choices, chord voicings etc. invariably throw me into unexpected, challenging territory, I'm pleased to say it's moving along at a nice pace and yeah I'm buzzing!!!"

AND FINALLY – Guitar lessons with Steve
Steve is now teaching guitar at Sheehan's Teaching Academy, part of Sheehans Music Services in Leicester.  Steve gives lessons there on Saturdays and for more information you can either conctact Steve directly, call Sheehans free on 0800 043 1022 or use the contact page on the Sheehans website at:
www.sheehans.com