It's hot outside and summer has finally arrived in the UK.  I hope it lasts while Steve and I have a welcome rest from touring for a couple of months – we have travelled many miles this year and it has been a very fulfilling journey.  We've met some fantastic people …
I have my sights set on catching up with a load of jobs around the house, catching up with friends and long walks with my dog on the beach while Steve is, as I write, furiously attacking some bits of wood which he will miraculously transform into stunning guitars.  We're both taking the opportunity to work on some new material for our duo and we have begun the process of putting together our bookings list for 2014 and beyond. (All offers considered).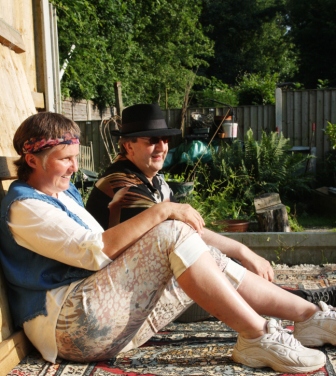 In addition, courtesy of our young friend Matthew Thomas, we have produced some new videos which are posted on YouTube  … including the one at the start of this post.
In June we had a great time playing for the first time in Jim Minall's, 'Friends of Folk', series at New Longton near Preston in Lancashire.  Jim's a lovely chap and an excellent organiser, (I say this even though he was unable to provide me with my request of a room full of mongrel puppies in the green room before the show!).  There was a good crowd turned up including several friends from the area and we were well pleased to have our friends Chris and Siobhan Nelson doing a few songs to kick off the evening.
Our next gig was at The Green Man Folk Club near Coventry, which is very well run by Julie Neale who is a very accomplished singer and did a couple of songs herself.  Thanks also to Robert Neale and to all who came to see us and all those who did floor spots including the lovely Hamish Currie who made a special trip to be there.
Then it was away to the Motherland to perform at The Bridge Folk Club in Newcastle.  We had a great turnout with lots of friends and many who had not hitherto had the, 'Hicks and Goulbourn', experience.  Many thanks to Dave Minikin for inviting us back – he does a good job and we always enjoy playing there.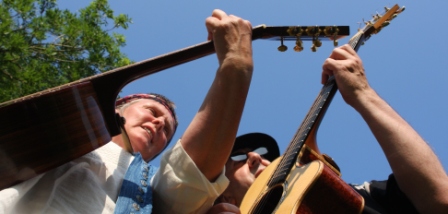 Our last public performance was the result of an initiative by a friend of ours who works for the Library Service in Berwick upon Tweed.  Tracey, a keen guitarist herself, thought it would be a good idea to attract more people into the Library by putting on a concert and it worked!  The audience far exceeded expectations and the Library enrolled several new members.  Our friend Stan Ferguson, a very good electric guitar player himself, sorted out the sound for us and a good time was had by all!
Next gig on Saturday 31st August Joules Yard, Market Harborough  8.00pm .