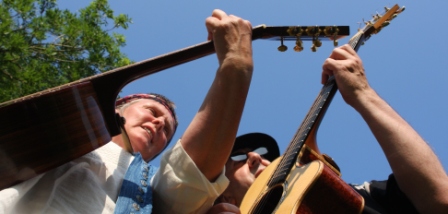 We're heading to my homeland, up North next week to play at The Bridge Folk Club in Newcastle upon Tyne on Monday 14th December, then the next night, Tuesday 15th December, Hicks and Goulbourn will be entertaining at Cramlington Folk Club.  We've played several times at both of these clubs and always look forward to seeing everybody and enjoying the warm Geordie hospitality and banter.  ( I expect there'll be plenty of that at the moment with Newcastle United beating Liverpool and Vicky from Geordie Shore winning, 'I'm a celebrity'.  Yyyyyessss!!).  It is very likely that we will perform my song, 'The Forst Geordie', in celebration of this wonderful area.
On Saturday the 19th December Steve and I are very much looking forward to playing at The Drax Folk Night Concert, Briantspuddle Village Hall near Bere Regis in Dorset.  This will be our first visit to the venue but we're looking forward to catching up with one or two familiar faces that we've met over the last couple of years.
In other news, Steve has a very full order book for custom hand made guitars and he's also been working on some new material.  We have been working up arrangements of some new songs that I've written and we are hoping to do some recording for a new cd early in the new year.
Click on the, 'Gigs', page under the, 'Hicks and Goulbourn', tab for a full list and details about all our gigs.  We are constantly updating the list as gigs are confirmed and we would love to hear from any organisers or promoters who are interested in booking Hicks and Goulbourn at their club, festival or event.
Steve and I would like to wish all our readers a very happy festive season and New Year, and many heartfelt thanks to all the organisers and people who have supported us over the past year.
XXXX