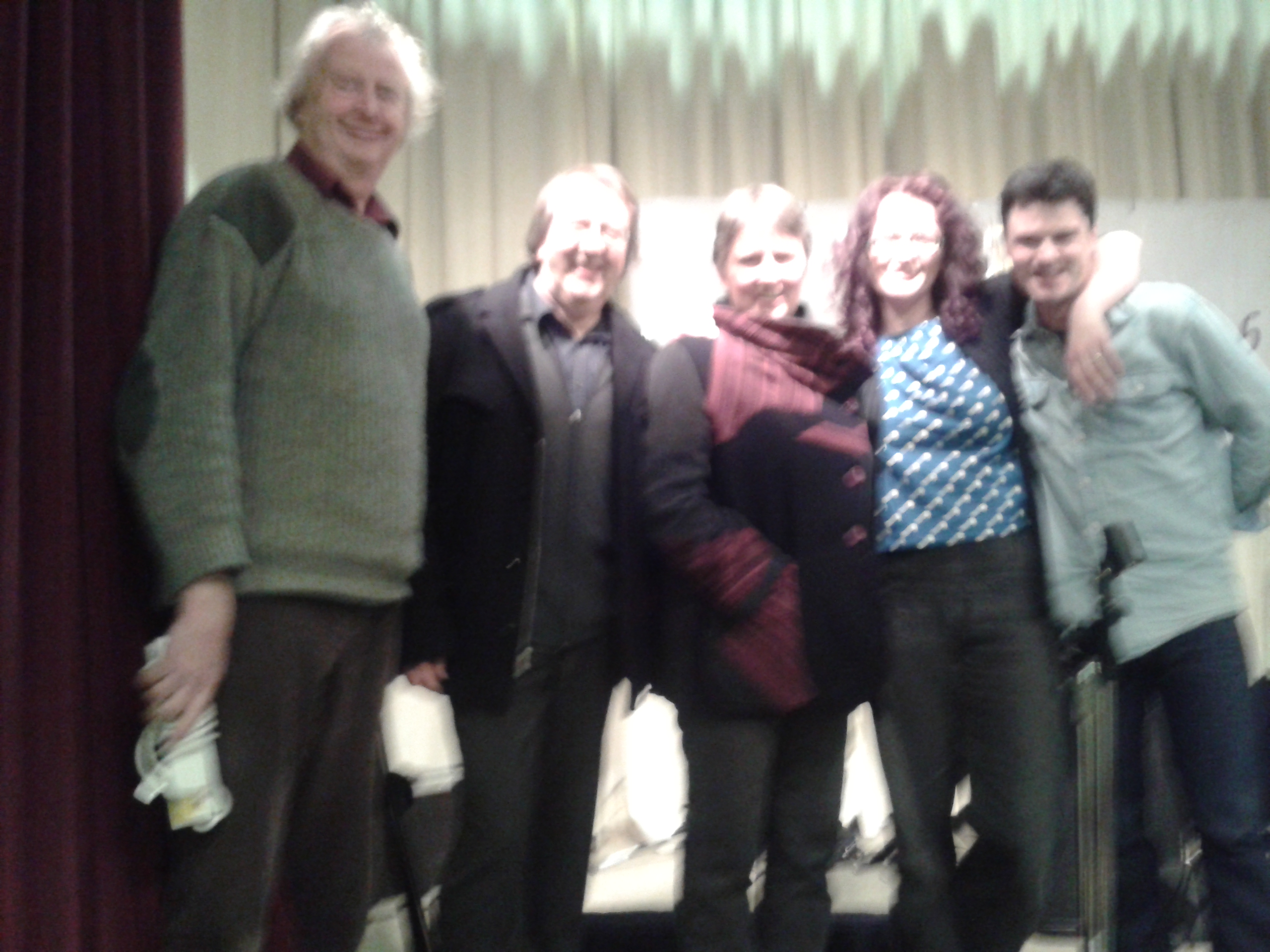 We were very pleased with this review in the Derbyshire Times.  We were the support act for award winning duo Kathryn Roberts and Sean Lakeman.  It was a great night! (Apologies about the blurred photo taken on my mobile in low light …  )  I've copied the whole review.
Once in a while a night comes along that oozes so much quality that you wish all nights were like this. Fortunately, a large crowd chose to celebrate Valentine's Day with a feast of acoustic music.
The support act was so good that Chesterfield Folk Club immediately began thinking when to bring them back as a headline act. Steve Hicks' fabulous and varied guitar-playing and Lynn Goulbourn's accompanying guitar and superb vocals got the evening off to a fine start.
We were treated to virtuoso instrumentals and driving traditional English and American tunes. A nod to the date saw My Funny Valentine and Dinner For Two on the list before Steve concluded the night with Stairway To Mozart where we had both modern and classical music injected with rag. Vastly proficient, unassuming and engaging, theirs was a performance to treasure.
Kathryn Roberts and Sean Lakeman lived up to their billing as winners of the best duo in the national folk awards in 2012. They gave two varied sets with Kathryn's remarkable voice backed by guitar, piano, clarinet and flute.
The song selection was at once traditional with those driving rhythms that fans of Sean's brother Seth Lakeman will know and contemporary with Kathryn's piano-based ballads.
It would be hard to choose a favourite from the evening depending on your preferences. The bluesy and rock-influenced approach to Childe Owlet or Whitby Maid contrasted well with the gentle Soft The Morning Sun and the charming 52hz about the lonely whale.
A Valentine's night to remember and Pete Abbott and Gregor Borland to look forward to at Club Chesterfield on March 14.
DAVE BATESON