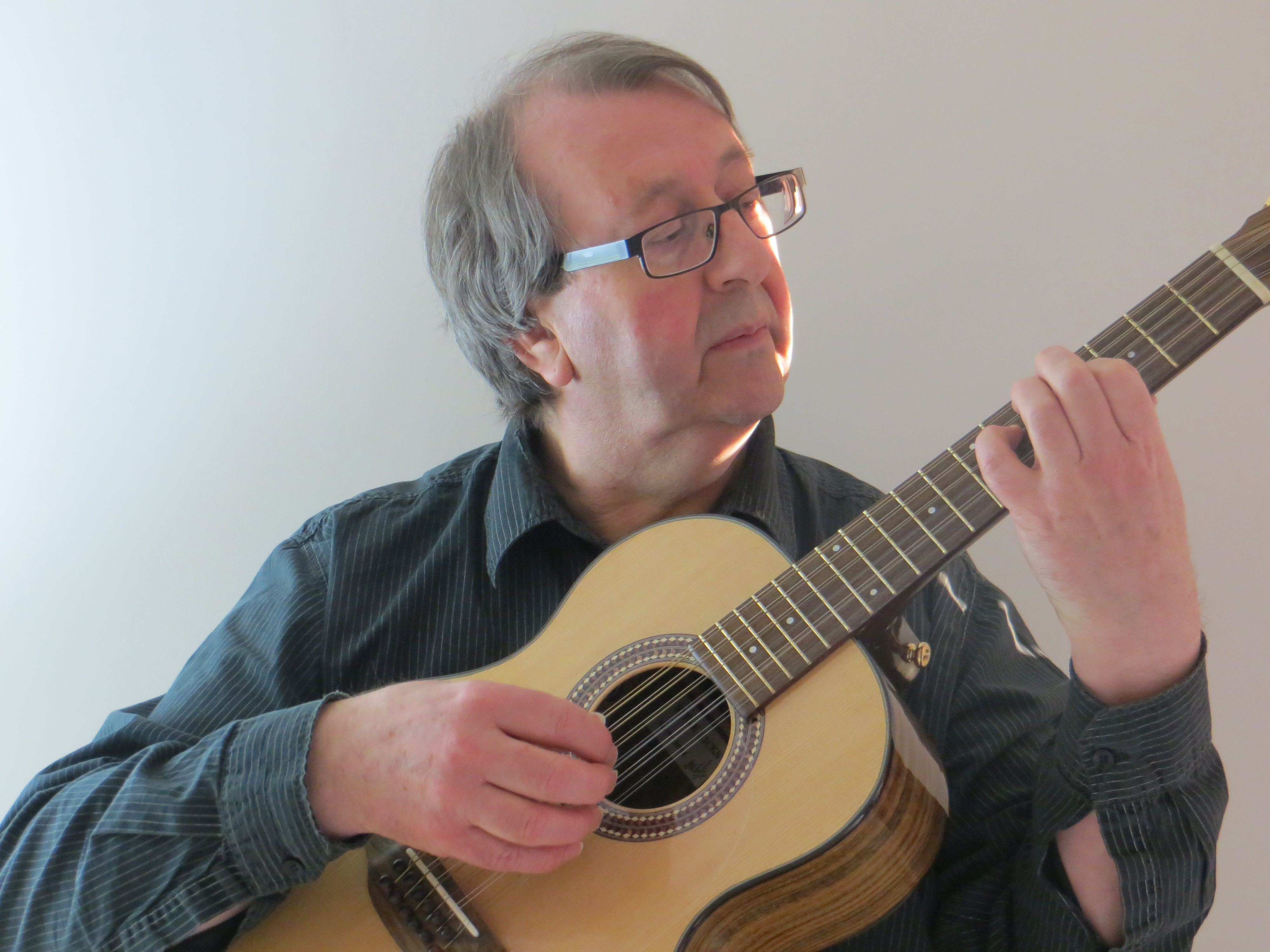 Steve Hicks is a maker of early and modern fretted instruments with over 40 years experience and is a virtuoso fingerstyle guitarist drawing on European and North American Music Traditions.
Born in South Ockendon Essex, Steve has an international reputation for his fine custom built instruments and is critically acclaimed for being one of the best fingerpickers around.
Some of Steve's instruments have been used by the following ensembles:
The Globe Theatre London
The Wells Oratorio Society
The Cumbrian Early Music Consort
Some notable soloists include:
USA National Fingerpicking Champion Eric Lugosch
Fingerstyle Guitar legend Duck Baker.
Singer Songwriter Lynn Goulbourn
As a guitarist Steve Hicks has performed in concert and conducted master classes and workshops in fingerstyle guitar at prestigious events including:
The Ullapool Guitar Festival Scottish Highlands
The Stamford Guitar Festival, Lincolnshire UK
The Chet Atkins Appreciation Society, NashvilleTennessee
Stepping Stones Music Courses with British folk music legends Maddy Prior and Rick Kemp
Steve graduated from London Guildhall University with highest honours in Musical Instrument Technology, (early fretted instruments specialist). For many years he has served in the capacity of student feedback mentor and concert artist to Clyde College department of musical instrument making and repair Glasgow, Scotland and also to  Lincoln College department of musical instrument craft Newark Campus, Nottinghamshire England. In 2015/16 Steve served as adjunct faculty for Dept of Music Technology at Confetti, De Montfort University Nottingham Campus and as advisor to the Carolan Guitar project dept, of computer sciences Nottingham University.
As a guitarist Steve is signed to Acoustic Music Records in Germany, a prestigious guitar music record label owned and run by world renowned guitarist composer Peter Finger.
Steve has released two critically acclaimed solo CDs on this label and is featured on two compilations.
Solo:
'A Thing Made of Rags' (2016)
This CD has recently been selected for review by New York Jazz magazine and an interview for the magazine is forthcoming.
'The Rag Trade' (1999).
Described by Jazz Podium Magazine as, 'a collection mercurial masterpieces', whilst Blues in Britain Magazine awarded 9 stars out of 10.
Compilations:
'Silent Night Christmas Carols on Acoustic Guitar' Various Artists (2016)
'Acoustic Guitar Masters' DVD Various Artists (2011)
Steve has also been the subject of an extensive article/interview for Akustik Gitarre Mar/Apr 2010 edition) Germany's largest magazine dedicated to Acoustic Guitar.
Steve has completed two highly successful concert tours of Germany with Peter Finger as part of the Acoustic Guitar Night Tour (2009 and 2016)
For the 2016 tour Steve was engaged to play the first leg consisting of 10 shows in 10 days. Almost all the shows were sold out in advance.
Since 2008 Steve has been part of the highly acclaimed acoustic music duo Hicks and Goulbourn, with singer songwriter guitarist Lynn Goulbourn,
CD recordings include;
'Owl Café' (2011) Striatum Records.
'Immortal' (2016) Striatum Records
Hicks and Goulbourn perform throughout UK and continental Europe
In 2014 Steve was awarded by K.Yairi Guitars of Japan the K. Yairi Steve Hicks Signature Guitar Presentation Model in respect of Steve's concerts and demonstration shows for K. Yairi Guitars at the Acoustic Avalon Guitar Show.
Further adventures …
Steve's guitar building projects for 2017 include specially designed Hicks Requinto Guitars. Just off the bench is a flamenco version for Duck Baker and next will be an arch top cutaway version for Lynn Goulbourn. Steve will also build a new model steel string guitar for sale through Guitar Basar, the guitar retail wing of Acoustic Music Records, Osnabruck, Germany. This guitar will be specially designed for Ragtime and traditional fingerpicking techniques. Another exciting project is to be one possibly two Hicks Baroque guitars for completion. These will be offered for sale.
In March 2017 Steve and Lynn were the invited performing artists at the RMMGA Gathering, Cotswolds region UK.  In May they will be performing at the Edenkoben Strings and Songs Guitar Festival Southern Germany alongside artists from Germany and Argentina. Further concerts from Steve and Lynn for 2107 are in the diary www.hicksandgoulbourn.com/events
At the end of the year Sunday Dec 17th Steve will make his second appearance, (last time was in 2013), at the Big Night of Acoustic Guitar x 5 in Bochum Germany with an international line up.